Eighteen months after the Russian invasion of Ukraine, the world faces a massive hunger crisis. The invasion has caused immense suffering for the Ukrainian people and has led to food, fuel, and fertilizer shortages and historically high food prices around the world. This has intensified the global food insecurity arising from the COVID-19 pandemic, climate shocks, and ongoing wars and conflicts.
The World Food Programme (WFP) estimates – based on information from 79 of the countries where it works (and where data is available) – that more than 345 million people suffer from high levels of food insecurity in 2023, an increase of almost 200 million since 2020.
Conflict and violence are major drivers of hunger and famine. According to WFP, 60 percent of the world's hungriest people live in areas affected by armed conflict. Besides destroying homes, lives and resources, including food stocks, wars disrupt transport, markets and land availability. At the individual level, they lead to food shortages, income loss and massive increases in food prices.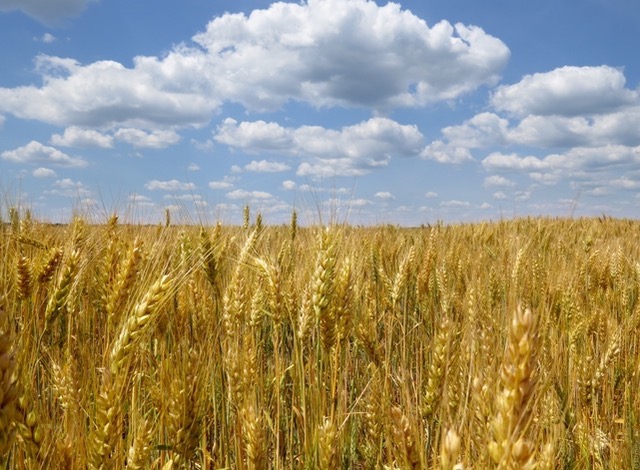 The war in Ukraine has caused spikes in food and fertilizer prices, increasing poverty and hunger worldwide. Protecting food systems from loss and waste is an important strategy for reducing the impact of conflict on food security. Wheat fields in Ukraine. Credit: torange.biz on Flickr (CC by 2.0)
Before the war, Ukraine was among the top agricultural traders in the world, exporting enough food to feed over 400 million people each year. Yet massive displacement, military conscription and the occupation of huge swathes of farmland have made it difficult or impossible for farmers to grow and manage their crops in the fields. The lack of availability and access to critical agricultural inputs, such as seed, fertilizers and fuel, are impeding production. Large areas of farmland are covered in landmines, planted by Russian forces, where they have already caused many hundreds of civilian injuries and deaths. More than 5 million Ukrainians are internally displaced and nearly 6 million are living as refugees in Europe, according to WFP.
The impact on agricultural production has been catastrophic. Although higher than expected, Ukraine's wheat production in 2022/2023 reached 21.5 million tonnes, a decrease of 34 percent from the previous year. Production in 2023/2024 is expected at 17.34 million tonnes.
Yet, production decreases are hardly the only challenges facing farmers in Ukraine. Disruptions to postharvest activities, such as storage and transport, jeopardize the ability of farmers to get their crops to market. The destruction of storage structures has caused significant postharvest losses and quality reductions, not to mention significantly limiting future storage capacity. A September 2022 study by Yale University's Humanitarian Research Lab reported that Russia's military had damaged, destroyed or taken control of nearly 16 percent of Ukraine's grain storage facilities. In addition, according to the Food and Agriculture Organization of the United Nations (FAO), by June 2022, around 30 percent of available grain storage facilities were filled with 22 million tonnes of cereals and oilseeds awaiting export.
In the early days of the Russian invasion, Ukraine's ports were either blocked or occupied by the Russian naval fleet, trapping large amounts of export grains and oilseeds in cargo holds, where they were vulnerable to attacks by insects and deterioration in quality. The Black Sea Grain Initiative, brokered by Turkey, the United Nations and Russia in July 2022, offered some temporary relief and stabilized spiking prices by opening a corridor for grain exports through Ukraine's southern ports. Nearly 876 000 MT of food was shipped to Djibouti, Ethiopia, Kenya, Somalia and Sudan, thanks to the initiative.
In July 2023, Russia announced its decision to terminate the Black Sea Grain Initiative, accusing Ukraine and the West of failing to honor their agreements. The termination of the agreement caused a temporary spike in global maize and wheat prices, although these had returned to previous levels by late July, due to improving weather and production prospects. Russia followed the announcement with targeted air raids that destroyed and damaged Black Sea ports and grain storage facilities in Odesa and Izmail, a Danube River port. Russia continues its attacks on Ukraine's grain storage facilities, recently launching drone strikes on the ports of Reni and Izmail. Such attacks could cause stockpiles in Ukraine to increase (as well as postharvest losses, given the inadequacy of storage capacity), which could force farmers to further reduce sowing in the upcoming season with knock-on effects in countries beyond Ukraine.
Beyond taking an immense toll on Ukraine, Russia's invasion of the country has significantly increased the uncertainty of food supply and trade across the globe. The conflict has disrupted logistical and market dynamics in a region that is a major supplier of grain and oilseeds to the rest of the world. The war is disrupting supply chains and further increasing already inflated global grain, fertilizer and energy prices, leading to shortages and ever higher food prices. Before the war, Russia was a major exporter of natural gas to Europe but Western sanctions on the Russian oil and gas sector have reduced trade and significantly increased prices globally. FAO's 2022 report on the State of Food and Nutrition in the World concluded that "the war in Ukraine will have multiple implications for global agricultural markets through the channels of trade, production and prices, casting a shadow over the state of food security and nutrition for many countries in the near future."
The food security impacts of the invasion of Ukraine reach far beyond the country's borders. Already dire humanitarian crises in countries such as Afghanistan, Somalia, Sudan and Yemen, have been magnified by the price spikes for food and energy sparked by the invasion. The food relief operations of humanitarian organizations have been slowed by market disruptions, delays in transport and insect-damaged grain. The drastic reduction of food exports from Europe's 'breadbasket' has also had a direct impact on food relief. Over the past year, Ukraine supplied WFP with 80 percent of the wheat used in its humanitarian operations in Afghanistan, Ethiopia, Kenya, Somalia, Sudan and Yemen. The collapse of the grain initiative means that wheat will need to be procured in other markets, where prices are bound to rise. And, in some cases, humanitarian aid is being reallocated to Ukraine and attention diverted from pre-existing crises, increasing the food insecurity of already vulnerable communities.
Recently, Ukraine announced a temporary 'humanitarian corridor' for merchant ships along the western Black Sea coast near Romania and Bulgaria. At least initially, the corridor will be used to evacuate ships that were in Ukrainian ports at the time of the invasion in February 2022; the ships were not covered by the Black Sea Grain Initiative. However, the move is being seen as a test of Russia's blockade of Ukraine's ports, reimposed after the collapse of the grain deal in July. A Hong Kong-flagged container ship that had been stranded in Odesa port since the invasion recently travelled the route safely. In the meantime, Ukrainian officials are working to expand export capacity via river, road and rail networks, although these are relatively costly and may lack appropriate export infrastructure. The massive backlog of goods awaiting export has been reduced due to the expansion of export capacity.
Although the conflict in Ukraine did not create the world's hunger crisis, it did intensify the vulnerability of local, regional, and global food systems already threatened by wars, climate change and the COVID-19 pandemic. As we learn more about the impact of conflict on food systems and food security, we must not lose sight of the need to protect food systems from loss or waste. Understanding the extent and causes of postharvest losses helps target scarce resources and attention to actions that can successfully reduce those losses at household and national levels and beyond.